Service Address

from

£24.00

per year
Use our Service Address and keep your home address off the public record
UK company directors, LLP members, subscribers (shareholders or guarantors at the time of the company's incorporation), secretaries, and people with significant control, are legally required to provide a service address for the public record. The primary purpose is for receiving their personal statutory mail and legal documents from official UK government agencies, including Companies House and HMRC.
You may use your private residence for this purpose, but do remember this information will be made available to the public.
Most of our company formation clients prefer to keep their personal address details confidential, choosing instead to use our Service Address. This includes the free forwarding of all statutory service address mail to our clients, by scan and email, on a daily basis.
Please note:
This product entitles one company officer to use the address. If you require the service for more than one officer, simply purchase the product for each person.
You cannot purchase this product just once to use for multiple companies. If an officer wishes to use the service for an appointment in multiple companies, it should be purchased for use in each company.
Our Service Address can be renewed every 12 months at the same rates and prices as year one.
Official government mail for the company officer will be forwarded free of charge, by scan and email, on the same day we receive it.
Official government mail is classified as mail from the following agencies: Companies House, HMRC, Government Gateway, Department for Work & Pensions (DWP), The Pensions Regulator (TPR), Office for National Statistics, Information Commissioner's Office (ICO), and Court documents.
This service cannot be used as a registered office address or for general business correspondence. If you wish to use our address for these purposes, please see our registered office and business address services.
Our service addresses
London
Officer's Name
71–75 Shelton Street
Covent Garden
London
WC2H 9JQ
£26.00 per year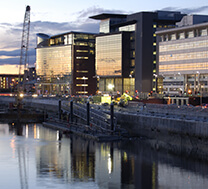 Glasgow
Officer's Name
272 Bath Street
Glasgow
G2 4JR
£24.00 per year
How to buy a service address…
Simply purchase
a service address!
If you just want a service address, click 'Buy Now' below and choose from service address, registered office and/or business address services. NOTE: If you select this option, you must inform Companies House of the change of service address.
London
£26.00

+VAT annually
Glasgow
£24.00

+VAT annually
As part of your
company formation
If you are setting up a limited company through Rapid Formations, you can add a service address in the 'address services' section of the online application form.
London
£26.00

+VAT annually
Glasgow
£24.00

+VAT annually
Import your
existing ltd company
If you wish to buy a service address for your existing company, you can create an account and import the company to our admin area. You can then purchase a service address and we will notify Companies House of the changes.
London
£26.00

+VAT annually
Glasgow
£24.00

+VAT annually
Frequently asked questions
What is a service address?
This is the official address of a director, secretary or People with Significant Control (PSC) and is used by government agencies, such as Companies House, to deliver all personal statutory communications and notices.
Directors, secretaries and PSCs are required to provide a service address to form a limited company. The forwarding of service address mail is free of charge.
Can I use this service for my registered office address?
No. This service is for the use of one company officer and covers his/her personal government mail only. If you are interested in using our address for your registered office address, please click here.
What about general business mail forwarding?
The service address can only be used to receive official government mail for a company officer. If you would like to use our London WC2 address as your business address and have all your business mail and correspondence forwarded to you, please see our business address product which can be bought online.
What is unsupported mail?
From time to time our Mail Team may have to send out an email to a client on the subject of Unsupported Mail. This is sent when we receive mail that is out with the client's service offering, e.g. we receive general business mail and the client has only purchased a registered office address service, which covers official government mail only.
What is the cost in the 2nd and future years?
The renewal cost of our service is £26.00 and £24.00 plus VAT per year for our London and Glasgow locations respectively.
Meeting & Conferencing
Conduct your business meetings from a prime city centre location in fully equipped and air conditioned meeting and conference rooms, available for hire in Covent Garden, London and Glasgow city centre.
For more information, including meeting room hire rates and booking contact details, please contact us.
With a free business
bank account
From £12.99