Business Address

from

£89.00

+VAT per year
Providing an excellent corporate image, with business mail forwarding
If you would like to use one of our addresses to receive your company's general business correspondence, then why not take advantage of our business address service. We will provide you with a prestigious London or Glasgow business address, enhancing your corporate image and creating an excellent business presence.
With this service you may use our address as the general business contact address for your company and we will forward your business mail to you on the same day we receive it.
Important – please read:
The cost of forwarding mail to you is not included. Mail forwarding is charged at Royal Mail postal rates plus 15%.
This service does not include a registered office service, which should be purchased separately.
All general business mail will be handled by us and forwarded to your UK or overseas address.
The purchase of this service entitles you to use our address for one company only.
Our Business Address services can be renewed annually for the prices and rates displayed on this page.
Proof of ID and address:
To ensure we fulfil our obligations regarding The London Local Authorities Act, and the current Anti-Money Laundering (AML) regulations and Know Your Customer (KYC) requirements, we may require proof of ID and proof of address from clients who purchase an address service. The required documents are detailed in the welcome email we send all address service customers. For further information on ID requirements please click here.
Our business addresses
London
Your Company Name
71–75 Shelton Street
Covent Garden
London
WC2H 9JQ
£99.00 +VAT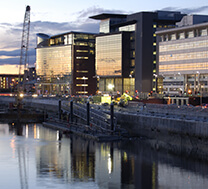 Glasgow
Your Company Name
272 Bath Street
Glasgow
G2 4JR
£89.00 +VAT
3 ways to purchase a business address:
Just buy a
business address!
If you just want a business address, click 'Buy Now' below and choose from business address, service address and registered office.
London
£99.00

+VAT annually
Glasgow
£89.00

+VAT annually
Add the address to
your company registration package
After choosing a company name and selecting an appropriate company incorporation package, you can add a business address service on the additional services page.
London
£99.00

+VAT annually
Glasgow
£89.00

+VAT annually
Do you need a business address for your existing company? You can buy any of our address services in London or Glasgow by creating an account on this website and importing your company details.
London
£99.00

+VAT annually
Glasgow
£89.00

+VAT annually
With a free business
bank account
From £9.99 +VAT