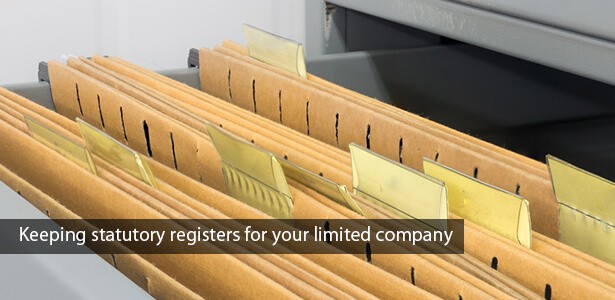 Limited companies are legally required to keep and maintain a number of statutory records and registers. It is the responsibility of directors (or a company secretary, if one is appointed) to ensure these important records are accurate, up-to-date, and made available for public inspection at the company's registered office address or an appropriate Single Alternate Inspection Location (SAIL address).
Where applicable, you should keep the following records and registers:
Register of members – shareholders or guarantors
Register of directors
Register of directors' usual residential addresses
Register of secretaries
Directors' service contracts
Register of charges and instruments creating charges – mortgages or secured loans
Minutes of board meetings and shareholders' meetings
Copies of decisions and resolutions
Record of directors' indemnities – security against liability claims or legal costs.
Record of debenture holders
Record of the sale of company shares
What is the register of members?
This register of members should contain the following information about each shareholder or guarantor (owner) in a company :
Name and contact address
Number and class of shares held
Amount paid or unpaid on each share
Date each shareholder became a member of the company
Date each shareholder ceased to be a member (where applicable)
What is the register of directors?
This register of directors must contain the following information about all directors appointed to a company during and after incorporation:
Forename and surname, including any former names
Date of birth
Service address
Usual country of residence
Nationality
Occupation
The register of directors' residential addresses should contain the home address details of each company director, or a note starting that their residential address is the same as their service address.
What is the register of secretaries?
Since 6 April 2008, it is no longer mandatory for a private company to have a secretary. If you do decide to appoint one, you must keep a register of all secretary appointments and resignations with the following details: name (including any former names), residential address, contact address, date of appointment, and date of resignation (if applicable).
Where to keep your company records
Unless otherwise notified, Companies House will assume your statutory records are held at your registered office address. If it is inconvenient to make certain records available for inspection at your registered office, you may keep some or all of them at a SAIL address. You must notify Companies House if you keep any statutory records at a SAIL address, and you must confirm which records are held there.
A SAIL address must be in the same country as your registered office, and you can only have one SAIL address at any given time. You must notify Companies House if you move any records, and you will be expected to confirm their location whenever you file an annual return.
What is a debenture?
Debentures are commonly used by banks as a means of obtaining security in the form of a 'charge' (binding liability to pay) over a company's assets and undertakings, but they are also used by individuals such as company directors. The debt is usually secured by a 'fixed' charge on a specific asset – property, machinery, shares, intellectual property – or a 'floating' charge over existing and future moveable assets of a business, such as stock in trade, for example.
Filing debentures with Companies House
A debenture is typically a long-term loan. The document will set out all details relating to the terms of the loan and act as a form of evidence for both the lender and the borrower. Copies of any debentures must be filed with Companies House in order to be enforceable. Any debentures on land or buildings should be sent to the Land Registry, or an appropriate third party if applicable to any other assets.
Security for lenders
Debentures can offer greater security than investing in company shares because the interest payments must be paid before any dividends are paid to shareholders, and they offer preferential treatment to lenders should a company become insolvent.
Bank debentures are normally required to be "all monies", meaning that they are secured by fixed and floating charges over all company assets. A bank may also require personal guarantees of the loan from the company directors.
Inspection of statutory records
Companies are required by law to make their statutory records available for public inspection at their registered office or SAIL address every working day between the hours of 9am-3pm. Advance notice of the date and time of inspection must be provided to the company – a minimum of 2 days' notice is required if the requested inspection date coincides with the notice period of a general meeting of the shareholders, or a written members' resolution. In all other cases, the required notice period is 10 working days.
How to keep your statutory records
The majority of limited companies will keep all of their statutory registers together in a bound or loose-leaf folder or book. This ensures all important company documents are filed together and easily accessible for inspection purposes. If you wish, you may keep digital copies instead of, or in addition to, your paper registers.
Rapid Formations Services
We provide digital copies of company registers with all of our company formation packages, with the exception of the Basic Package. The option of a hardback loose-leaf company register is also available during the company formation process, or afterwards through our Online Admin Portal.
Related articles